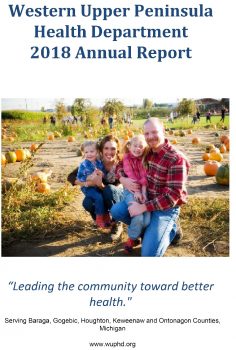 The Western Upper Peninsula Health Department (WUPHD), the northernmost public health department in Michigan, serves the 71,000 residents of Baraga, Gogebic, Houghton, Keweenaw and Ontonagon counties.
WUPHD is a multi-county special governmental unit, as allowed under Section 2415 of the Public Health Code, Act No. 368, 1978. The agency was founded in 1936, and has included the present five counties since 1963. The agency operates under the direction of a Board of Health, composed of 11 members drawn from the boards of commissioners of the five constituent counties. Additionally, the agency's Health Officer oversees the administration of the Public Health Code across the Western Upper Peninsula, while the Medical Director is responsible for the medical direction of public health, and emergency preparedness programs.
WUPHD is headquartered in Hancock, with branch offices in L'Anse, Ontonagon and Bessemer. The agency provides a broad array of public health programs and services, including communicable disease surveillance and control, immunizations, a variety of maternal and child health programs, personal health programs, such as family planning and STI testing, school-based health education, and a full range of environmental health services.
MISSION
It is the mission of the Western U.P. Health Department to lead the community toward better health through education, advocacy and disease prevention. To achieve this mission, the health department works to prolong life and promote community health through control of environmental health hazards and attention to the health needs of vulnerable population groups.

VISION
Western U.P. Health Department will set the standard for community health agencies, as we perform our role within the healthcare system in a manner that reflects our core values. We will be recognized as the expert in community health protection and improvement, as a model of effective and responsive government, and as the regional leader for public health.
CORE VALUES
Commitment: Western UP Health Department exists, first and foremost, to serve, safeguard and educate the community through responsible policy making and implementation.
Excellence: Western UP Health Department will assure that whatever is undertaken is done to the highest possible standards.
Accountability:Western UP Health Department will conduct itself as the best of public entities, operating efficiently and with complete transparency.
Growth: Western UP Health Department will nurture growth and development as central tenets of its operation, whether for individuals, the health department as an organization, or the community at large.