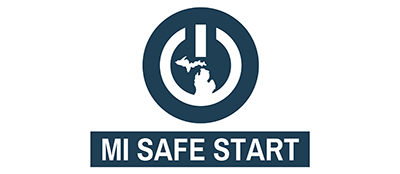 In mid-March stay-at-home orders were issued across Michigan in an effort to slow the spread of COVID-19. The decision to re-engage sectors of community and the economy have been based on the ongoing spread of COVID-19 and the capacity of Michigan communities to respond the virus.
The MI Safe Start Plan outlines the phases of re-engagement for the state and the criteria to move between phases. The full plan can be accessed below:
What's the Risk in my Community?
MI Safe Start Map is a dashboard designed to monitor the status of COVID-19 indicators across the state of Michigan. The dashboard tracks and displays the current risk phase of Michigan regions and counties due to COVID-19. The goals are twofold:
To assist public health officials in making state, regional, and county-level decisions related to COVID-19;
To provide the general public with insight into some of the indicators that affect these public health decisions.
Visit the MI Safe Start Map