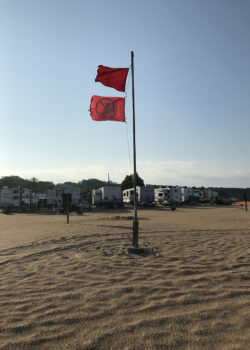 To help boost awareness of changing conditions at Great Lakes beaches and save lives, double red warning flags are now in place at state-designated swim beaches along the Great Lakes in Michigan state parks.
It's a change to the Great Lakes flag warning system that the Michigan Department of Natural Resources began integrating last year at several state parks, and for good reason.
"We actively reevaluate our safety measures and public education efforts, especially when it comes to Great Lakes safety," said Ron Olson, DNR Parks and Recreation chief. "Many people underestimate the power of the Great Lakes and don't always understand how quickly even the most experienced swimmer can get into a life-threatening situation and swept away. That's why the DNR is committed to making beach safety and public education a top priority."
Olson said the increase in accidents and drownings on the Great Lakes in recent years is more than concerning. According to the Great Lakes Surf Rescue Project, which tracks drownings across Michigan, there have been 1,170 Great Lakes drownings since 2010, with 108 of those drownings in 2022 alone.
What do the flags mean?
If you see double red flags, you are not allowed to enter the water from the beach. Unless otherwise directed, visitors can still enjoy spending time on the beach when double red flags are up. Such closures/limits can also be identified by park signage and/or by verbal communication from DNR parks or law enforcement staff.
Specifically, DNR Land Use Order 5.1.6 makes it illegal to enter the water from a state-designated swim beach when there is risk to human health and safety. Risks can include severe weather events identified by the National Weather Service, hazardous waves and/or dangerous water conditions, active rescue or recovery efforts, and environmental hazards.
"We began introducing double red flags at some state-designated swim beaches in 2022," said Pat Whalen, district supervisor for the DNR Parks and Recreation Division. "This year, all equipment is in place, and the new flag warning system has been rolled out to all state-designated swim beaches along the Great Lakes in nearly 30 state parks. We urge all Great Lakes beach visitors – whether you're new to these beaches or have been coming for years – to learn what the flags mean and follow this guidance at all times."
The Great Lakes flag warning system is in place at state-designated swim beaches to advise visitors of current water conditions and any applicable environmental warnings. The updated system now includes:
Double red flag = water access closed**. Do not enter the water; dangerous conditions.
Red flag = high hazard. High surf and/or strong currents. It's recommended that you stay on the beach.
Yellow flag = medium hazard. Moderate surf and/or currents. Watch for dangerous currents and high waves.
Green flag = low hazard. Calm conditions. Enter the water, but exercise caution.
State-designated swim beaches are identified by marked swim buoys, water depth of less than 5 feet at the time of buoy installation, available lifesaving flotation device and equipment, and (only at Great Lakes beaches, not inland beaches) Great Lakes flag warning system.
Water depth at state-designated swim beaches is inspected approximately every 14 days, and underwater obstacles will be posted or marked. It's important to note that not all state parks have designated swim beaches, and many are located inland.
**The double red flag restriction does not include those participating in board sports, such as surfing, kite surfing and skim boarding, with appropriate safety gear.
More ways to stay safe
Keep these other cautions in mind when enjoying time in and around the Great Lakes:
There are no beach guards at state parks, so never swim alone, always keep close watch of children and bring U.S. Coast-Guard-approved life jackets, especially for new and inexperienced swimmers.
Water currents near piers, breakwalls and outlets of rivers can be extremely hazardous.
Visitors in areas without designated swim beaches should use extreme caution because they will not have the benefit of the beach flag warning system or the visual cautions of buoys that mark water depth and obstacles.
Before leaving home for any beach outing, check local weather reports and lake conditions and learn about the types of Great Lakes currents and how to escape them.
Visit Michigan.gov/BeachSafety for tips and information on safely visiting the Great Lakes, including state-designated swim beach locations, the beach flag warning system, Great Lakes currents (and how to escape them) and more.
For more information, contact the DNR's Pat Whalen at 269-838-1196 or WhalenP1@Michigan.gov.